SO I have have been MIA since I got back from Vegas...actually, I have been hold up in my classroom trying my hardest to finish my classroom library. I am almost there, I just have to make my bin labels and then labels for my books to match the bins and I am done. I have already sorted the books so I will only have to put them in the respective bin. I REALLY hope it works out for me. The labels are almost finished and should be finished by Monday!!!
My reading game/incentive is also almost finished...as soon as I have the finishing touches added, I will post a preview of it and upload it to my TPT store. I REALLY hope this works too!!
I have also been busy working on a cute stool for my class that will be a watermelon color with some zebra and my last initial...it will be super duper cute, I just know it. As soon as a I get this much needed printer I am dying to have, I will be able to finish several other projects that I need finished so I can get my room together. I have 3 days....oh, please let this get finished....I really want it all done before teachers report back...keeping my fingers crossed.
Before I hop off and head to the store to get more book buckets and search for the perfect computer, I am going to link up with
Farley from Oh' Boy Fourth Grade
for her Currently Link Up!
I can't believe I am 10 days behind on getting this up, oh well, better late than never.
Head over to Farley's blog and link up!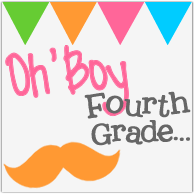 I hope everyone has a GREAT weekend!!! I'll check back once I have more to tell.
Oh yeah, I almost forgot....I have 50 FOLLOWERS!!!! WHOOP!!!